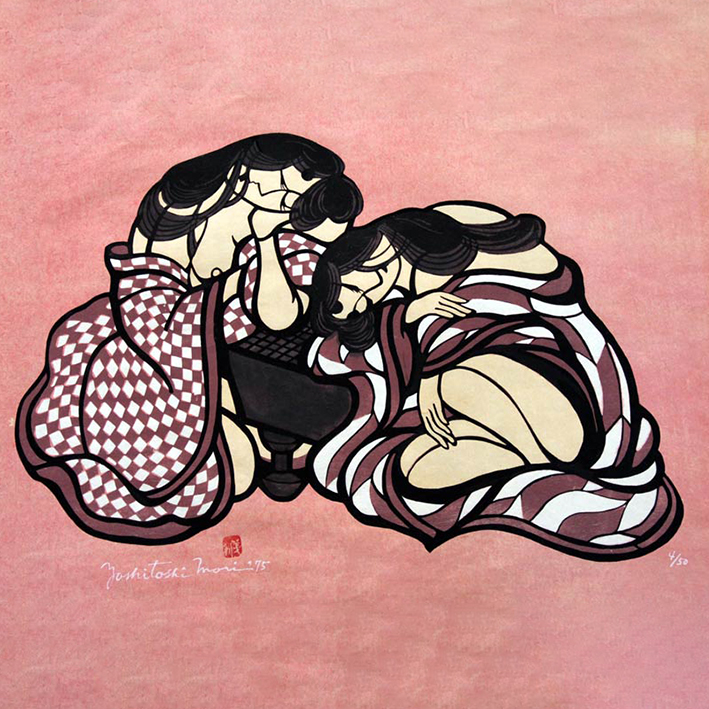 KAMAL BAKHSHI MODERN ASIAN ART
ABOUT
Kamal Bakhshi Modern Asian Art is a London based dealer of Modern Asian Art. Specialising in the work of Japanese artists Bakhshi's catalogue ranges from masterpieces by the likes of Toko Shinoda, Daniel Kelly, and Kazuko Shiihashi, to contemporary print-works by Ray Morimura, Kazutoshi Sugiura and Ryohei Tanaka. Kamal Bakhshi Modern Asian Art also offer a range of museum quality woodblock prints by master printmakers: Yoshitoshi Mori, Sadao Watanabe and Iwami Reika.
ADDRESS
Kensington, London W8 7BY
INFORMATION
Tōkō Shinoda – Master of brush and ink  
Kensington London W8 7BY 
Thurs 27th Oct – Sat 5th Nov
Yoshitoshi Mori (1898-1992)
Yoshitoshi Mori was Japanese artist who specialised in 'kappazuri' stencil prints.  He was for many years a member of the Mingei folk craft movement, producing stencil-dyed textiles and other textile art before turning to prints later in his career. His colourful works generally depict scenes from the kabuki theatre, or subjects relating to folk traditions and festivals. Art collector Ren Brown writes that Yoshitoshi's "figures are most often rendered with a simplicity that manages to denote great energy and movement. Mori is known for using earthy colors in his work, and for often positioning his figures in a somewhat contorted and dynamic mass."
OPENING HOURS
We currently operate on a by appointment basis.
10.00-17.00 daily.