Museums & Institutions
An integral part of Asian Art in London is the promotion of key Asian art exhibitions held at museums and institutions throughout the year and the wonderful selection of permanent collections in the UK which are available to visit in-person as well as online.  We have compiled this useful list of information and links to our favourite collections, exhibitions and online events which we hope you will enjoy visiting
British Museum
This platform allows visitors to explore some of the most well-known objects in the collection in a brand new way, looking at how cultures and civilisations sat together over time.
A History of the World in 100 Objects – this ground-breaking series, made in conjunction with the Museum and BBC Radio 4, introduced listeners to 100 objects from the Museum's collection, demonstrating one view of the world and how it has developed since the dawn of civilisation. The full series can be accessed here.
The National Gallery
Wherever you are in the world, take a Virtual Tour of the National Gallery.
Royal Academy of Arts
Find ways to explore the collections and exhibitions online, tips and tricks on how to keep creative, or blogs to get lost in a world of art history.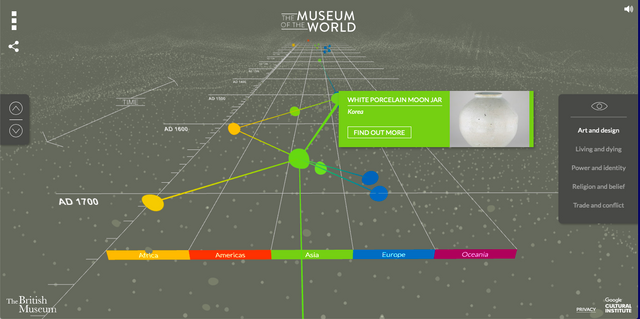 Tate Modern and Tate Britain
Tate online have an expansive collection of digitised papers, audio tapes and artists' letters available to read and reference for free here.
Browse their extensive collection of digitised artworks online too.
Victoria & Albert Museum
From ancient Chinese ceramics to Alexander McQueen evening dresses, take an incredible journey through 5000 years of human creativity with the V&A's online collections. Online Collections
The Courtauld Institute of Art
Tour the virtual gallery. You can still enjoy a (virtual) stroll through each room of the Gallery, as it was before it closed. Click Here
The Courtauld's Collection includes 7,000 drawings and watercolours, 26,000 prints, and sculpture and decorative arts dating from Antiquity to the 20th century. Discover some of the highlights Click Here
The Courtauld YouTube channel includes films about our world-famous collection and talks about the history of art and conservation. This recent film explores the legacy of their founder, Samuel Courtauld, and his remarkable art collection. Click Here
Further Suggestions
Ascott House, Bedfordshire
Ashmolean Museum, Oxford
Asia House, London
Bristol Museum, Bristol
The Brunei Gallery, SOAS University of London, London
Burrell Collection, Glasgow
Compton Verney, Warwickshire
Durham Museum, Durham
The Fan Museum, London
Fitzwilliam Museum, Cambridge
Japan Society, London
The Museum of East Asian Art, Bath
Museum Rietberg, Zurich
National Palace Museum, Taiwan
Saint Louis Art Museum, USA
Smithsonian Freer-Sackler, USA
The Oriental Ceramic Society, London
Wallace Collection, London
Winchester College, Winchester