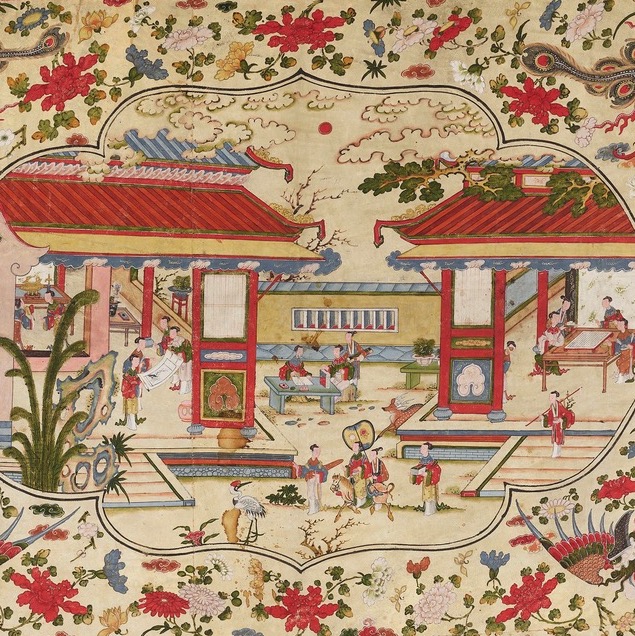 JACQUELINE SIMCOX LTD.
ABOUT
Jacqueline Simcox specialises in silk textiles from China and Central Asia together with some works of art. Textiles for sale include court costumes, palace furnishings, silks for buddhist and daoist use, as well as wall hangings, pictorial subjects and other decorative pieces. The company has examples of all the main textile techniques, including embroidery, brocade and tapestry, dating from the 2nd-19th centuries.
ADDRESS
Shapero Rare Books Ltd.
106 New Bond Street
Mayfair
London,
W1S 1DN
INFORMATION
CHINESE & HIMALAYAN TEXTILES
Shapero Rare Books Ltd, 105 New Bond Street, Mayfair, London, W1S 1DN
20th October – 5th November 
A selection of silk textiles, including two fine 18th and 19th century export coverlets for the western market; a selection of embroidered buddhist meditation panels; court costumes and accessories; wall hangings and early silk panels. Amongst the works of art a rare wall hanging painted on deerskin with ladies at scholarly pursuits. A yak-wool costume for a Tibetan lady is part of festive dress still used in Ladakh, while two short jackets for men show Tibetan male finery made from Chinese silks.
OPENING HOURS
Monday – Friday: 10:00 – 18:00
Saturdays: 10:00 – 18:00
Sunday 31st October: 11:00 – 17:00
Monday 1st November: 10:00 – 20:00
BUSINESS ADDRESS
By appointment only: 54 Linton Street Islington London N1 7AS