Ursula Weekes
Dr Ursula Weekes is an independent art historian based in London, who specializes in Mughal India. She teaches for the V&A Academy, Guildford High School and leads tours to India for Andante Travels. She was educated at St John's College, Cambridge, and the Courtauld Institute of Art, and subsequently lived in Delhi for seven years, teaching at the National Museum Institute and Jawaharlal Nehru University (School of Arts and Aesthetics). She is currently writing a book on Mughal Court Painting in India for Reaktion Books Ltd (forthcoming in 2022).
You can find her on Instagram @ursulaweekes.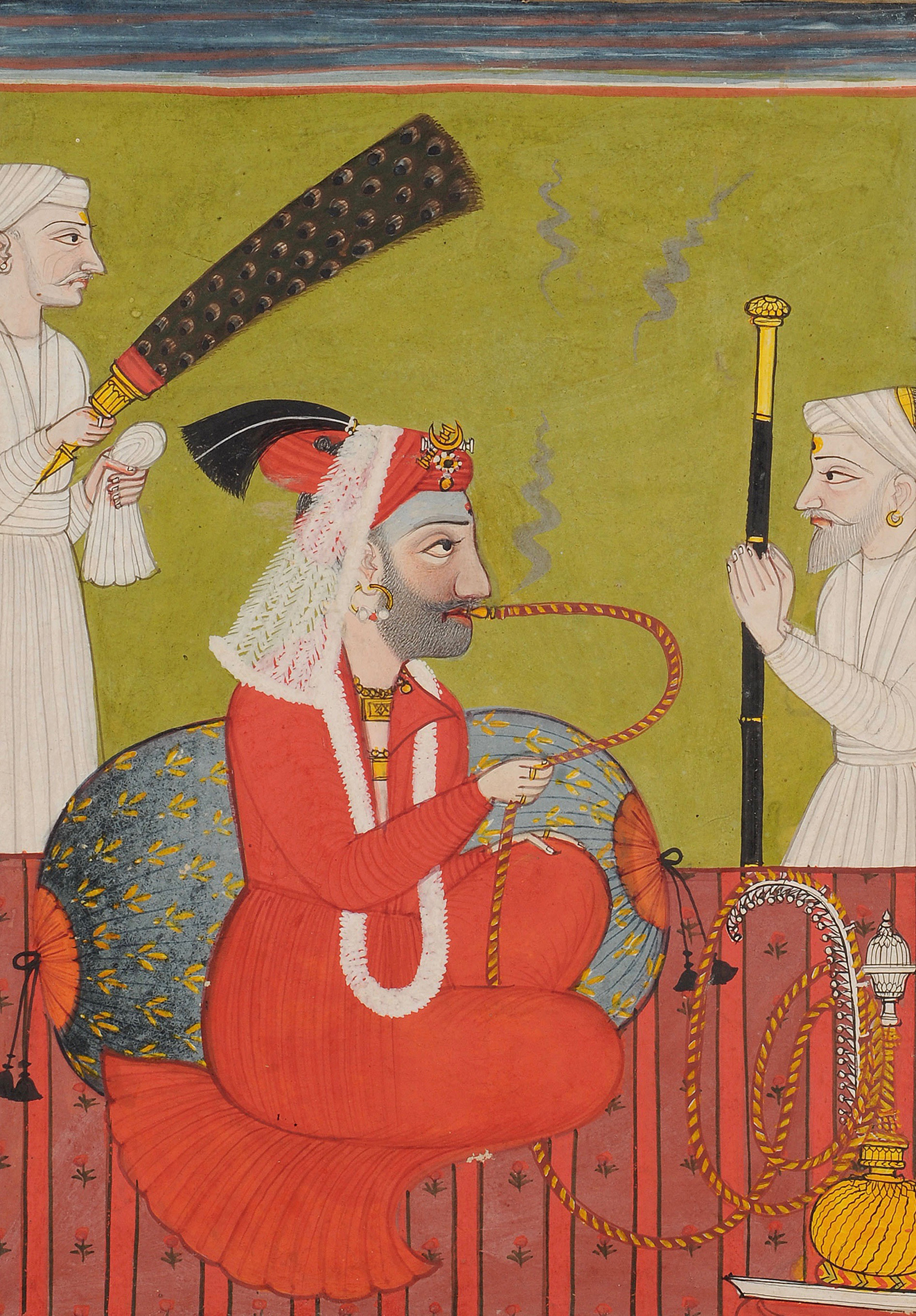 RAJA SHAMSHER SEN OF MANDI (1727-1781)
Mandi, India,
Opaque Pigment on paper,
Circa 1770-1780
Raja Shamsher Sen ruled the small Himalayan state of Mandi, north of Shimla, for much of the eighteenth century, succeeding his formidable grandfather, Sidh Sen, at the tender age of five in 1727.
He is portrayed here in the last decade of his reign, sometime between 1770 and 1781, sitting on a striped pink rug, leaning against a large blue bolster, with two courtiers in attendance. He wears a red pleated jama, open at the neck to reveal his gold jewellery. He holds a striped hookah pipe to his lips and puffs genie whisps of smoke that rise against the hot lime green background. His heavy stubble and red-rimmed eyes speak of a life accustomed to alcohol and narcotics, amply documented in other portraits of Shamsher Sen and historical accounts of his reign. His blue forehead, crescent turban ornament, and the Shaivite marks on the foreheads of his attendants, all indicate his devotion to Shiva. The cascade of white jasmine flowers tucked into his turban appears in several other portraits and he also wears a garland of jasmine, whose fragrance mingles with the sweet aroma of the hookah.
This is such an idiosyncratic portrait, with its flat style, distinctive economies of scale, and vibrant clashing and complementary colours. It creates a powerful image that lingers long in the mind and demonstrates that portraiture remained an essential part of Mandi court culture throughout the eighteenth century. It makes me wonder whether the eccentric figure of Raja Shamsher Sen really was as uninterested in the business of rulership as most people say.